Ready to Avoid Dating Disasters and
Find the Lasting Relationship You Deserve?
We've created Dating Rescue! especially for you.
Are you stuck in a dating rut?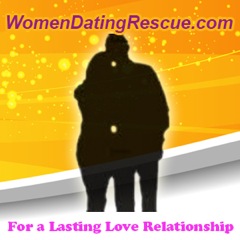 Fed-up with relationships that go nowhere?

Tired of wasting time on partners who don't live up to your expectations?

Perhaps you're afraid of getting back out in the "meet" market altogether!

Well, you're not alone.

And you don't have to settle for being alone. Not if you don't want to.
Because now there's Dating Rescue!

Dating Rescue is a powerful new eCourse lovingly created for you by me and my sister Amy Sherman. She's a Licensed Mental Health Counselor. I'm a Relationship Coach and trainer.

We teamed up on this project because we have answers, advice and solutions to all your dating frustrations. And we want you to have it in a format that's easy to access, easy to digest and easy to implement … so you can attract and create the meaningful relationship you are looking for!

I've been where you are. I met and dated a lot of frogs before I rescued myself from the countless bores, brutes or boys I was attracting into my life. Once I changed my strategy, started dating smarter and boosted my confidence from the inside out, then I found my prince!
I've now been happily married for close to ten years. Along the way I've digested the important lessions I mastered. They became the foundation of the powerful Transformation Modules we share in Dating Rescue!
What makes Dating Rescue so powerful - and even life-altering?
The exceptional quality of the course material … the valuable results from the exercises included … and the immediate benefits you'll get -- starting the very first day!

Dating Rescue! is not about quick fixes. We don't teach you flirting techniques, come-on phrases, or a list of "rules" that you should follow. There have been too many gimmicks masquerading as useful tools in recent relationship books, courses and workshops. They do nothing to assure lasting, fulfilling relationships. And we won't insult you by offering mere "tricks" disguised as realistic dating strategies.

We understand that dating as an adult brings up many fears and questions:

Will anyone find me desirable? Should I even try?

Where can I meet someone worth my time? Is online dating a realistic option?

Is my sense of desperation showing through – and is that turning men off?

Is it really possible to find a great relationship partner at this stage of my life?

How do I stop attracting the same kind of men and break this repetitive cycle?

Must I compromise who I am to get into a lasting relationship?

And if I do find someone I'm interested in, how do I know he's honest, reliable and really worth my time?

Dating Rescue explores these issues – and a whole lot more – from a woman's perspective. We address the key points you need to know before and during dating. We tell you how to realistically begin a romantic relationship … and take you through the strategies for developing a healthy, mutually satisfactory bond with a potential significant other.

And we do it all with refreshing candor that you can relate to!
We designed this 10-week eCourse to have you dating smarter, feeling more empowered and having more fun! That's because with each Transformation Module you'll be getting some of the most important advice and dating strategies available anywhere – based on real-life experience as well as insights derived from a private therapist's practice.
There's no BS...no platitudes...and no pie-in-the-sky promises that set you up for disappointment!
Feeling confused about today's dating etiquette, who pays for what and other related issues?

Unsure about how to dress, where to meet new men and what to say when you do?

Concerned about your safety and security before, during and after a date?

Have questions about if, when and how to approach sexuality?

Wondering whether you're being too critical or not critical enough with someone new?

Need guidance on how to bring your children, other family members and close friends into the picture?

Dating Rescue! gives you the candid, honest answers you've been looking for on the most crucial facets of dating and relationships. This includes how to:
- Psyche yourself up for dating success
- Release past relationship baggage - yours as well as his!
- Prepare yourself for dating - from the inside out!
- Avoid relationship traps and pitfalls that snag
- Be in the right place to attract the right man
- Make internet dating work for you
- Handle the challenges of maintaining intimacy, trust and respect for your partner
- Effectively communicate to find your ideal mate
- Guard yourself from unrealistic expectations
- Move gracefully through each stage of commitment
- Recognize the warning signs of abuse
- Joyfully balance intimacy and sexuality
- Master the most essential component of relationship success
- Stop settling - and start selecting - a quality partner
- Know when you've found a "keeper!"
You don't have time to waste on Fairy Tale thinking. Prince Charming is not going to sweep you away to his castle in the clouds. The valuable information in Dating Rescue! reveals the true secrets to relationship success. It's not about hype or hooks. It's based on sound psychological principles and proven techniques based on our in-the-trenches experience – both clinical as well as personal.

Amy Sherman's expertise comes from more than twenty years in private practice specializing in relationship therapy. My contribution comes from two directions: my own divorce followed by six years of being single and then remarrying … as well as twenty years as a Certified Corporate Trainer and Relationship Coach providing countless workshops for singles and couples.

Together Amy and I combined our knowledge and experience with our sincere commitment to empowering the lives of single women. The result is real Dating Rescue!    

The Dating Rescue! eCourse works because:
It provides honest, no-nonsense material.


It doesn't bash men. It supports, encourages and respects women.


It offers simple, easy-to-follow guidance, strategies and suggestions for real-world women who are looking to find worth-while men.


It delivers lessons and impactful exercises in each Transformation Module that teach, challenge and empower you.

And Most important of all...


It provides what you need to know, to do and understand to bring a healthy relationship into your life - soon!

Dating Experts agree - this eCourse packs a big punch!

"Dating Rescue is filled with wisdom you never got growing up and you can't get from your friends. It's not just a good guide to dating; it's a smart guide to living."

Judith Sherven, PhD and Jim Sniechowski, PhD, best-selling authors of The Smart Couple's Guide to the Wedding of Your Dreams



"This Step-by-Step program packs a really big punch, and provides solid, grounded answers to the big questions mature women often find themselves asking."

Jackie Black, Ph.D., author, Meeting Your Match: Cracking the Code to Successful Relationships



"As both a psychotherapist and a woman who just returned to the dating scene I was amazed at how 'on target' this course is!! Not only were the messages those I would deliver as a therapist, but reading them helped guide me through this new venture in my own life...a truly helpful program!"

Mimi Scott, PhD, MSW, Author, Tales of Children of Divorce



"This program is witty, wise and absolutely wonderful! Starting over at any age can be hard, but when you've been out of the loop for a while it's sometimes down-right terrifying. These ladies have broken it down into organized and easy to read snippets that cover the gambit from sensible to sexual and everything in between. I will definitely recommend it to all of my divorcing women clients!"

Lisa C. Decker, Certified Divorce Financial Analyst, www.DivorceMoneyMatters.com



"This is NOT another "quick fix" to dating but a foundation of how dating paradigms shift with age. Rosalind & Amy deliver a step-by-step guide that is easy to follow and can be implemented instantly! What I admire most is their ability to portray the advantages that age & experience can bring to the table! The authors show you that creating long term, lasting relationships at this age with an emotionally available and stable partner is not only in your cards but attainable step-by-step!"

Ben Winkler, Relationship Coach for Singles, www.BenWinkler.com


Isn't it YOUR time yet?

It's time to change what you've been doing to get better -- far better -- results.

It's time to stop watching, waiting and letting life go by without you – or selling yourself short on partners who don't meet your standards.

It's time to step outside your comfort zone to a place of insight, awareness and unshakable self-confidence.

The Transformation Modules in the Dating Rescue eCourse are designed to help you create the lasting relationship you desire and deserve.

Amy and I invite you to join us on this wonderful adventure into healthier, happier dating. And your timing couldn't be better. For the first 200 programs we're offering special discount pricing to celebrate our Dating Rescue! Launch.

   

 That means, you can purchase this powerful 10-Module eCourse today for only $97.00!       

The price, following the launch period, will rise to $197.00.



That's right. Order today and you'll also get these 3 incredible bonuses – worth an additional $105!

* The Smart Dating Personal Assessment Kit: including your Dating Preparedness Quiz and Exploration Guide. These exercises and tips will guide you to a better understanding of your own personality and help you explore other perspectives on dating as well as warning signs when your relationship may be heading for a ditch. (A $37 value!)

* How to Communicate to Attract the Right Mate: Learn the most effective communication skills to enhance intimacy, avoid conflict, and create long-lasting harmonious relationships. (A $39 value!)

* A Powerful Audio Workshop presented by both Amy and me guiding you through the most important pitfalls to avoid when dating and entering a serious relationship. (A $29 value!)

These bonuses will help you personalize what you're learning and give you direct access to us, the program creators. You can ask questions, learn from our own experience and put into action the strategies that best work for YOU!

And you get all this without any risk!



Your Total Satisfaction Guaranteed

Not sure whether this is the program for you? We've eliminated your risk! If you're not totally pleased with Dating Rescue! after receiving the eCourse for the first three weeks, just let us know. We'll refund your entire payment – NO QUESTIONS ASKED. That's how sure we are that you'll love and value this significant material. It also means you can try the program risk-free while you start enjoying the benefits of transforming your dating experiences!


But you have to act fast to take advantage of our Special Launch Pricing!


To reserve your 10-Transformation Module Dating Rescue! eCourse, along with the four valuable bonus gifts – at the special Launch Price of just $97 – simply click the button below. As soon as we sell the first 200, the price goes up to $197.


NOTE:After your Paypal purchase, please check your email to complete your order.




Remember, while the Dating Rescue! eCourse is new, the material we share with you has been time-tested! Our simple, yet highly effective, approach has been working successfully with my own coaching clients as well as Amy's private practice clients. Now you can put it to work for YOU! Dating Rescue! is not a magic potion. But it will help you more fully love yourself … so you can attract a loving relationship … with a man you'll be proud to love! Isn't that what you really want – and deserve?




Here's to your new dating success!


P.S. One more thought. If you're tired of dating disappointments … if you feel stuck in a rut you can't get out of … if you're starting to believe there's no one out there for you … it's time to STOP your self-destructive thinking and START taking constructive action!


Give yourself the GIFT of guidance you can depend on. This eCourse will build your self-confidence while it supports you in dating smarter -- and having more fun! Grab your Dating Rescue! eCourse today -- without risk -- at the limited-time launch discount price … and get the entire program -- for just $97!

NOTE:After your Paypal purchase, please check your email to complete your order.